Google Business Profile Management
Your Google Business Profile (formerly Google My Business Page) is among the most important lead generation tools on the internet. Yet, many local businesses in Colorado Springs do not take this asset seriously.
Your Google Business Profile is probably the most widely used and easily viewed property for a local business search. A lot of local customers rely solely on the search results Google provides.
When someone searches for a lawyer, a dentist or an electrician, they may come across your Google Business Profile listing This will be especially true especially if you are one of the first 3 listings on the front page.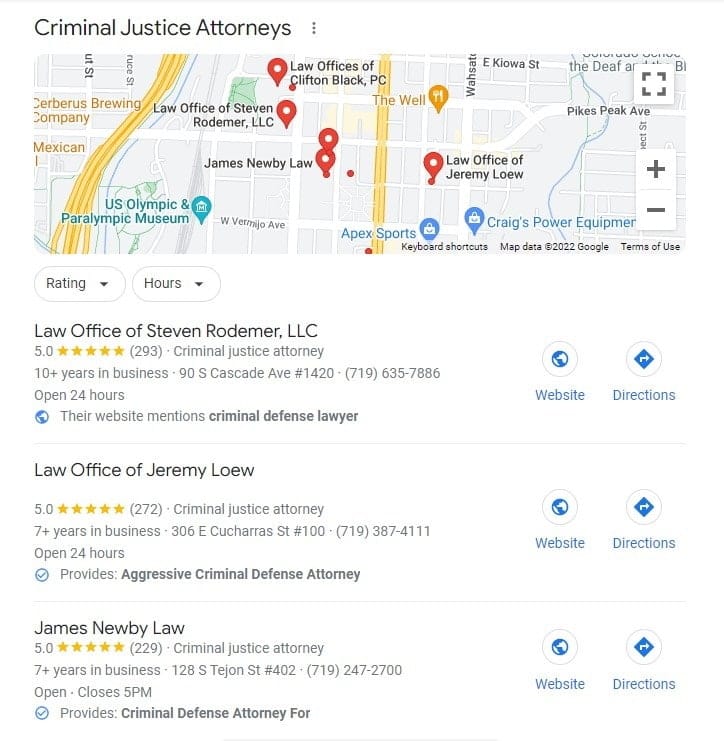 Optimizing your Google business profile page the right way, can be an effective way to market your business. Whenever someone searches for your local service or product, the map listings will show up as the first thing in their results.
What Is A Google Business Profile?
Google Business Profile is essential for your business. It's an enhanced business listing, provided to legitimate businesses by Google, that include all relevant information about your business. It's literally a page that is searchable in a very prime position (near the top of a search page). Furthermore, that top position gets your business' location on the local results and in Google Maps.
Your Page incorporates all pertinent information about your business and relays it to the prospective customer. The information you include will address when your business is open, how your business can be contacted, where your business is located. There's even a link to your company's website!
Another great feature is the fact that you can include a lot of other information if you want. You can post useful info to provide answers to questions or even to run promotions. You can post information about events, specialties, and more.
Thus, you could use it as a local blog for your business as you can post relevant topics every day. A major advantage is the fact that it's going to automatically rank high because Google will prioritize it for local searches – if done correctly.
What Is The Google Local 3 Pack?
The Google Local 3 Pack is a set of (3) local business results that is often located right under Google Ads, and above other search results. It pulls the map of the locations directly from Google Maps. Google leverages its search engine algorithm to rank the businesses within the Local 3 Pack. It's very obvious how important it is for your business in the top (3) positions, but the vast majority of local businesses never even come close!
By getting higher rankings in the Google Local 3 Pack, you can deliver more exposure to your brand and more traffic to your business and website. It's one of the best places to have your business ranking high when someone is looking for what you offer.
Having a highly optimized Google Business Profile gives you much better authority across the entirety of the Google platforms. This includes Google organic search results, Google Maps, and other Google platforms.
Much like organic SEO, having greater relevance is only going to improve your traffic numbers and get more people aware of your business as a whole.
Use Google Business Profile To Keep Your Prospective Customers And Current Customers Informed
Having a complete and highly optimized Google Business Profile is one of the best things you can do to keep all of your customers fully informed about your business. It's going to deliver them pertinent information that they need to use to make purchasing decisions. You will highlight your business' hours, showcase a list of services, and include specials, and they can even see your reviews.
You want everyone who searches for your business to find up-to-date information about your company. Therefore, you need to keep it routinely updated and optimized. We can help you establish this foundation to get the most out of your GMB efforts.
Google "Found" On Google Business Profile Is Good For Your Bottom Line
The fact is, when people search and find your business on the map, they tend to interact with it. This means you get more customers entering your store, calling your store, and even visiting your website.
Are You Ready To Start Getting Found?
If you are ready to massively boost your business using your Google Business Profile, call us right now. We help all kinds of small businesses in Colorado Springs, Canon City, Pueblo, Florence, Penrose, and other areas get found on Google Maps.
Schedule A Consultation!
Let's discuss some marketing solutions for your business.