Your Google Business Profile (formerly Google My Business Page) is among the most important lead generation tools on the internet. Yet, many local businesses in Colorado Springs do not take this free asset seriously.
At Fairlane Web Consulting, years of keeping our clients' Google Business Profiles in tip-top shape has proven that they get at least 50% of their clients and customers from their Google Business Profile!
Google Business Profile – Top Of Page!
Your Google Business Profile is probably the most widely used and easily viewed property for a local business search. A lot of local customers rely solely on the search results Google provides, and they often look no further down the page.
You know why this is true?
The Google Business Profiles are near the top of the page in almost any search! Usually right below the ads, those three profiles, along with their reviews and stars (ratings), can bring in a LOT of business. That is – if you can manage to get into the top three listings.
When someone searches for a lawyer, a dentist or an electrician, they may come across your Google Business Profile listing This will be especially true especially if you are one of the first 3 listings on the front page.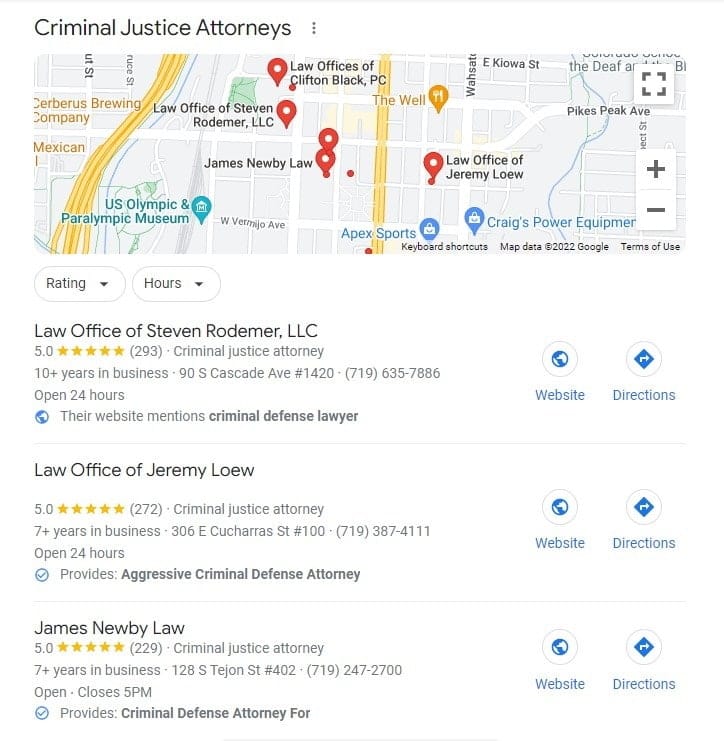 So, how do you get your business into the top three listings on Google?
First, let's cover some basics about the Google Business Profile.
What Is A Google Business Profile?
Google Business Profile is essential for your business. It's an enhanced business listing, provided to legitimate businesses by Google, that include all relevant information about your business. It also includes all the great reviews your business has received from happy customers – social proof!
It's literally a page all about you that is searchable in a very prime position (near the top of a search page). Furthermore, that top position gets your business' location on the local results and in Google Maps.
Your Page incorporates all pertinent information about your business and relays it to the prospective customer. The information you include will address when your business is open, how your business can be contacted, where your business is located and your phone number (very important). There's even a link to your company's website!
Another great feature is the fact that you can include a lot of other information if you want. You can post useful info to provide answers to questions or even to run promotions. You can post information about events, specialties, and more. You can add all the photos and images you want. Optimized correctly, those images can be searchable in the "Images" part of search engines, providing yet another way to promote your company!
Thus, you could use it as a local blog for your business as you can post relevant topics every day. A major advantage is the fact that it's going to automatically rank high because Google will prioritize it for local searches – if done correctly.
Ok, How Do I actually get my Google Business Profile?
You'll need a google account. If you don't have one already, go to google.com and sign up. Get a gmail address in the name of your business – that's a great idea.
Open a new tab in your browser. Search for your business by name. If your Profile is unclaimed, you'll see something like this (below). Click on "Own This Business" and follow Google's instructions!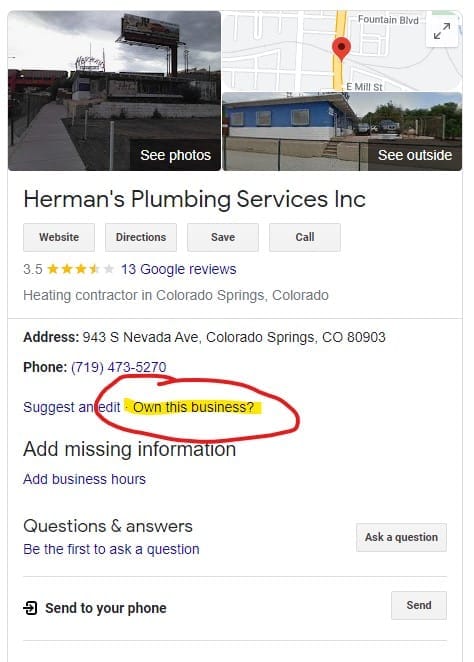 Google "Found" On Google Business Profile Is Good For Your Bottom Line
The fact is, when people search and find your business on the map, they tend to interact with it. This means you get more customers entering your store, calling your store, and even visiting your website.
Are You Ready To Start Getting Found?
If you are ready to massively boost your business using your Google Business Profile, call us right now. We help all kinds of small businesses in Colorado Springs, Canon City, Pueblo, Florence, Penrose, and other areas get found on Google Maps.