Colorado Springs Website Maintenance
Got a website, but no one to maintain it?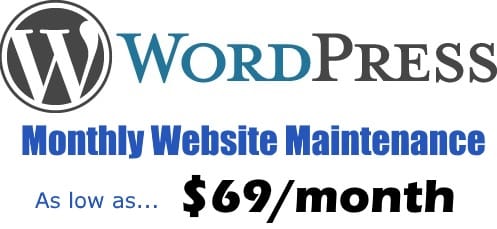 Get the website maintenance you need, when you need it with our discount web maintenance plans. We are always ready to make website edits, changes & updates whenever you need. We can also cut costs & save you money with our monthly retainer website maintenance plans. We have affordable, top quality website maintenance packages & our pricing is made for organizations and businesses of any size.
Monthly WordPress Website Maintenance
Our website maintenance packages are designed with the busy business owner in mind, and they are made to be affordable for anyone. We are available to be your webmaster or we can show you how to maintain your website yourself – at a much lower cost than you might imagine!
Website Security Included!
These days with website hackers in the news almost daily (the White House even got hacked), website security is critical to keeping your big online investment, your business website, online!
If you're not continually updating the software and backing up your website, then you run the very real risk of losing data worst case, or getting hacked with a malware injection and sending out thousands of spam emails, ultimately getting your IP address blacklisted!
We can prevent security breaches like this, and in the event that you do get a security breach, we can repair or restore your website (provided you have allowed us to backup your site).
Here's what you get with out website care packages;
Competitive Pricing
99.23% Uptime* – Uptime monitoring included at no extra cost
VPS (Virtual Private Server)Technology don't "share" space with hundreds of potentially damaging websites
Peace Of Mind Security – we scan for "hacking" attacks and disinfect websites that do get attacked
Software updates included
Complete website backups – additional level of security
Google Webmaster Tools evaluation & monitoring
Repair & mitigate malware and hack attacks
Personal Service (you can call to contact us)
No long-term contracts – cancel any time
Unlike most other average website design and maintenance companies, we've got top-level coders and programmers on-staff to assist you however possible! We won't send your valuable website off to India, China or worse for any reason!
Using the form below, please let us know how we can help with your website management , or call our office at 719-761-4862