Google My Business Page Management & Posting
Do you realize that by ignoring your Google My Business page and NOT posting your offers on a regular basis, you're throwing away 50% of new business?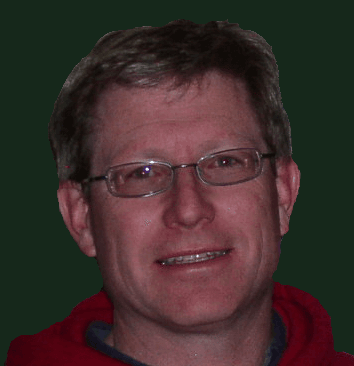 Hi – I'm Dan Morton, owner of Fairlane Web Consulting in Colorado Springs. We have been helping local businesses just like yours for over 12 years in Colorado Springs.
I have managed and promoted many local Google My Business pages for my clients over the years and I have watched their businesses grow!
Google My Business – More Clients, More Income!
My job – my only job – is to keep new customers and clients flowing into MY client's businesses.
I've learned that a well-managed Google My Business page is usually responsible for around 50% of new business over time.
I devote a large portion of my efforts to clients' Google My Business Pages because I realize – through my own experience – what a seriously strong asset this is. In conjunction with a great website and other quality internet assets, optimizing your Google My Business page and posting on a regular basis is a proven way to grow a solid business.
What Exactly is a Google My Business Page?
If you're searching for a local service provider in your city, a dentist for example, you might Google "Colorado Springs dentist." Then, you might see something like the image below;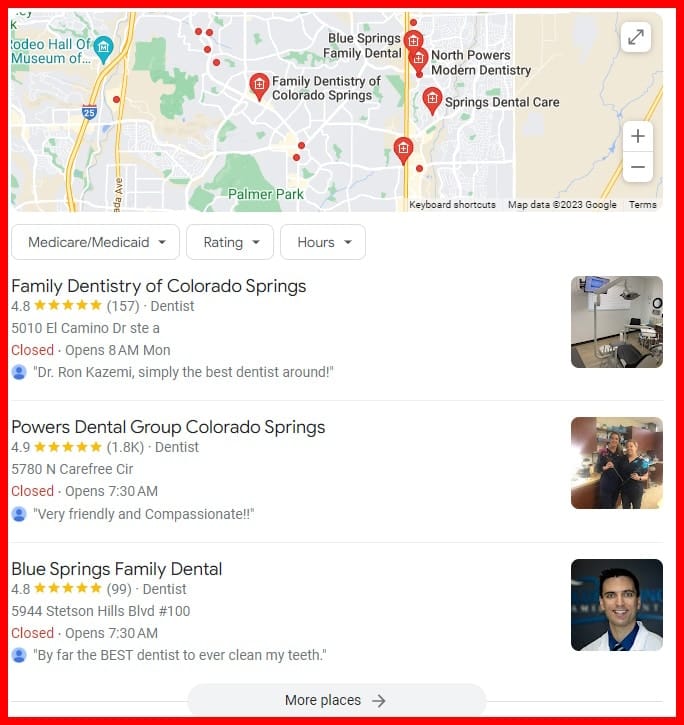 If you click into one of these businesses you will see their Google My Business page complete with all pertinent information including ;
Phone Number
Location
Reviews
Services
With this information, you could choose a dentist that you might feel very confident in, could easily schedule an appointment and if you were still unsure, you might even scroll further and see their posts, which might just push you over the edge to call now and make that appointment, gaining that dentist a new client!
Your Google My Business page is great for growing your business!
So, Why Isn't Your Business Growing As You'd Like?
Here's the simple answer.
Your Google My Business page is not set up correctly, it's not optimized to rank to grab new customers, and you're not posting your offers to your target audience.
In other words, you're literally ignoring a really great way to grow your business through new revenue by not using this great asset.
This Problem Can Be Solved With Focused And Repeated Action.
If you're serious about building your business, if you are dedicated to a great customer experience and keeping your customers very happy (and able to get great reviews), then I can help you.
What Do I Do For You?
Optimize your Google My Business Page for your business and to attract your target audience.
Create, write and post your offers, pertinent details about your business and other related information 2 – 5 times per week.
Create an offer page for your website
Monitor clicks, calls, keyword ranking and other important details to accurately monitor the performance of your campaigns
How Much Will It Cost?
I normally charge $250 for the first month to optimize your Google My Business page the right way, build new campaigns and start posting.
I design & publish posts (including images) designed to highlight your company and your products and/or services, at the rate of about 2 – 5 per week.
I collect data including business contacts, click-throughs and calls from your page
For subsequent months, I charge $400/month.
I have no contract and we work on a month-to-month basis.
NOTE: For a limited time, I'll optimize your Google My Business page, set up the monitoring and do the first 2 weeks worth of posting for free – just to show you how I work.
My clients usually get returns on investment (ROI) in the hundreds of percent – or more.  All it takes is one relatively small sale per month to cover my expenses. Everything beyond that is pure, 100% profit.
Can I Guarantee Results?
I cannot guarantee results. A big part of your success in business growth is how you treat your customers. The happier your clients are, the better reviews they leave, and the more your business grows.
I do know from many years of working with local businesses that investment in a Google My Business campaign is one of the best ways to grow a profitable local business.
How Do We Start?
If you are ready to massively boost your business using your Google Business Profile, call or text me right now (719) 761-4862. We help all kinds of small businesses in Colorado Springs, Canon City, Pueblo, Florence, Penrose, and other areas get found on Google Maps.