These days it's extremely easy to have a website for your business, but do you know how much website traffic (how many visitors) are coming to your website? Collecting and analyzing detailed visitor data can be crucial to your success online. This data can tell you where to put advertising resources, and which traffic generating strategies are working – and which aren't. Website traffic is the lifeblood of your business
Most business owners think that once they get their business website launched the battle is over, and they can relax. Unfortunately, this couldn't be further from the truth. Getting an easy-to-navigate, well-optimized business website launched is just the beginning of of the process.
If you're a business owner who has an online presence, visitor data gathering and analysis can make – or break your business.
You may be pouring money into your online efforts to get great placement on search engines. You may have been given promises of search engine success and other online strategies. And, you might be getting great search engine placement. But, are you getting new customers?
The main question is: how do you know these strategies are working – or not working? You need to be collecting and analyzing visitor data.
How many unique visitors do you get each day?

Where do they come from?

How long do they stay?

How many pages do they look at?
These questions (and many more) can be answered by two separate technologies:
Google Analytics

Jetpack plugin (if you have a word press website)
Both are free to use and are easy to install. The first, Google Analytics – click HERE for a more detailed description) is a fantastic tool you can use to get incredibly detailed information about your visitors (see image below for just a few of the many bits of information Analytics delivers).
You can see the number of visitors hourly, by day, week, month. You can see how long they stay, which pages they look at and where they're from. You can then use this information to target your advertising or traffic generating strategies much more efficiently – vs. just crossing your fingers and hoping everything turns out ok!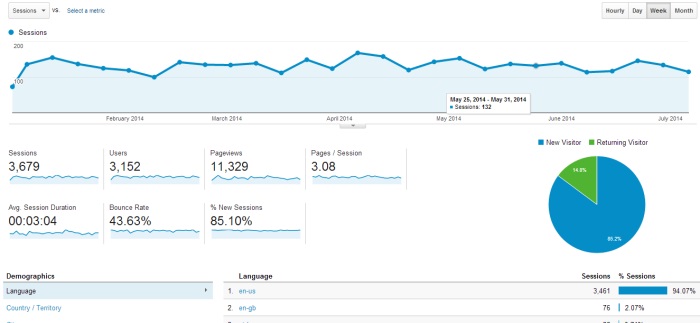 The second data gathering software is Jetpack Site Stats – a WordPress plugin that collects visitor data & clickthroughs by way of your wordpress.com blog account (both an account at wordpress.com and Jetpack totally free, by the way).
Jetpack operates a little differently from Analytics. The most important difference is that Jetpack doen not discriminate user types, whereas Analytics will record visitors  from a unique I.P., address once each day – no matter how many times they visit. Jetpack will count each visit to a web page – unique or repeating visitor. 
But Jetpack also gives additional data that's accessible right from the dashboard from your wordpress installation such as referring websites and pages clicked. 
All in all TONS of useful information from either method and that data can give you the basis on which to make crucial decisions about your marketing and customer gathering strategies.
Learn more about Jetpack HERE.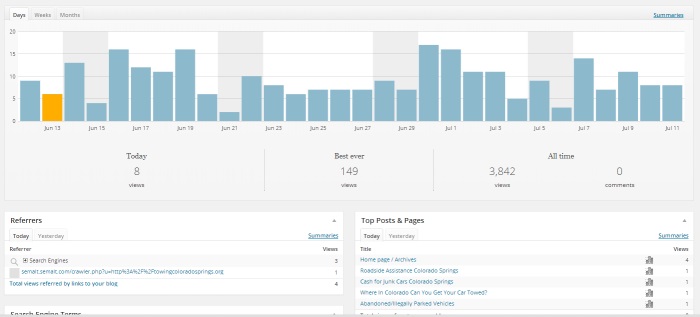 If you don't have the time (or interest) to put either of these data gathering tools to work, but desperately need the data to make crucial marketing decisions, give us a call at (719) 761-4862 or drop us a line HERE or just use the form to the right to learn about our low-cost options for getting this crucial data.
By Dan Morton