Over the past few years, Google has made changes to the way that it manages business identities through the Google My Business system. Many confusing changes in terms of how and where to list your business have happened. So confusing that some local businesses have totally ignored their Google My Business page.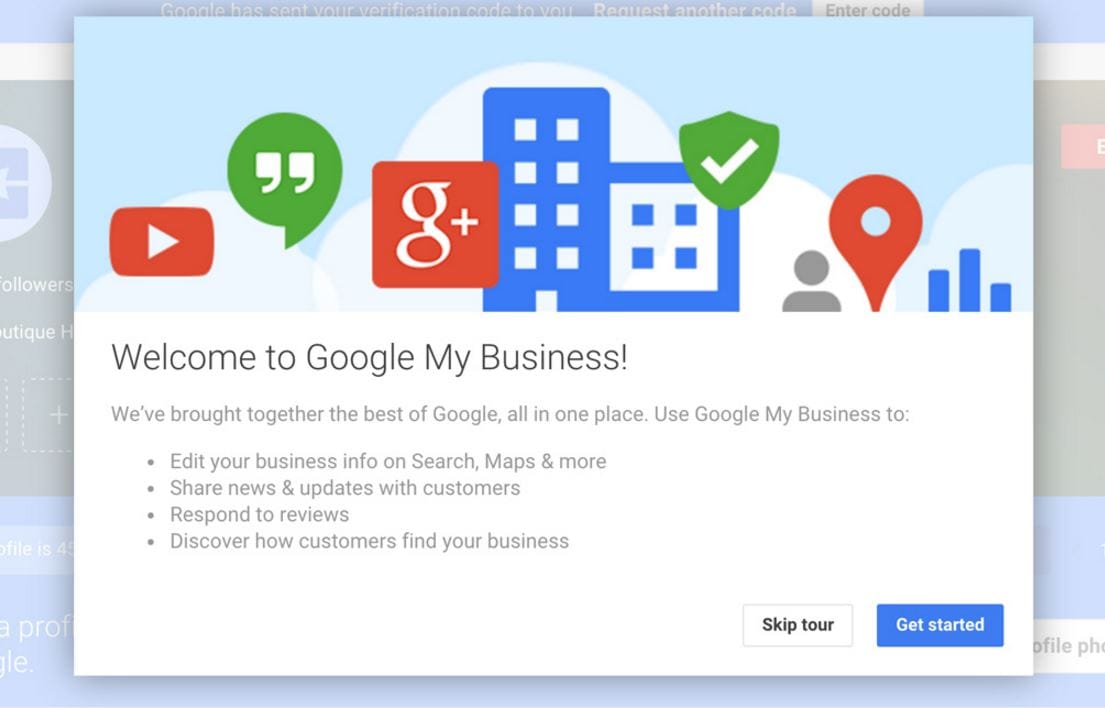 But the fact remains that you really need to claim and optimize your Google My Business page (let's call it your GMB from here on out). Mostly used for reviews, and your claimed and verified GMB is the only way to actually rank in the first three slots under the ads on the front page.
So, it's an understatement to say that your GMB page is important to your business.
Here is what I can tell you about the GMB today.
The platform you will be using to manage the way your business information is displayed across Google, including Maps and Search, is the Google My Business (GMB) dashboard.  It is also how you will interact with customers via Google reviews and on Google+.
What that means is that Google My Business can be used for creating and managing Google search listings, Google+ brand pages and Google+ local business pages.  The new platform is geared more towards businesses that have one or multiple physical locations, where local search traffic is very important for them.  If you happen to be the Denver Broncos or Bon Jovi or a taco truck, and that isn't what your business is, hang in there – I will be addressing how all of this affects local service area businesses and brand pages also.
An Introduction To Google My Business
Google My Business (GMB) has 3 major goals:
Managing the way your business appears on various Google properties
To assist you with interacting with customers on Google reviews and Google+ (meaning details about your business and reviews)
To help you better understand your internet presence and expanding through using data provided by metrics (Google Analytics) and insights
Since GMB provides the information that is used for all of your local search listings, Google tries to make it as easy as they can for you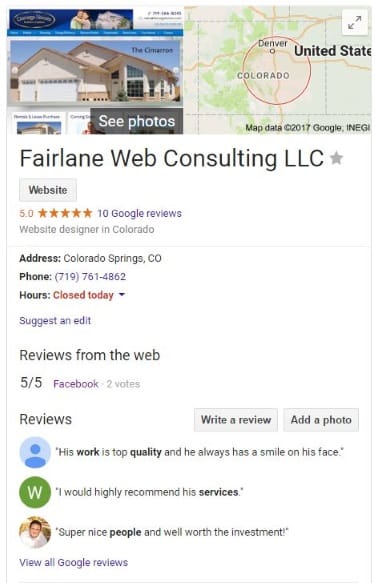 to add information and update it.  You can go to your dashboard and do things like edit your hours and other information or upload images that will be displayed as part of your search listing (make sure to click through to check periodically since they won't be the only images appearing there).
Not only does the GMB dashboard manage your search profile information, but it also allows you to access your Google Apps (now called the G suite), manage reviews, and view your analytics and insights.
It is connected to your Google+ and YouTube accounts as well, which allows you to share updates to your Google+ directly from your dashboard.  You can also start a Google hangout from there – better yet, there's a direct link to hangouts – click HERE. Individuals who rely on mobile devices for managing their businesses will be happy to know that a GMB mobile app is available.  Even if you don't heavily rely on your phone, you might still want to have the ability to post about what you are doing on Google+ and respond to reviews right away.
How To Set Up Google My Business for Existing and New Google Accounts
There are a couple of important notes for us to mention before we start: If you own a business that has multiple locations, you need to create separate Google Business Pages for each of your locations (that is due to the fact that local search information is connected to the account).  This can be done through using one GMB account.  You just add locations to your main account (along with location managers).
If necessary, you can set up a separate "Business Account."  This allows multiple locations to have more independence.  This is also something you might want to do if your company has distinct services or departments (such as a commercial and retail arm) or different businesses.
For large businesses with numerous locations there is Google My Business Locations special dashboard for managing over ten locations.
Warning: Make sure you sort out which of your business listings are associated with your different Google accounts if you have more than one.  Also check to see whether or not you have Google+ pages already for your locations before you get started, including unverified ones.
Determine which Google email address/account you would like to be the main one for your business, then transfer ownership of any of your Google properties that are under the other accounts over to your primary account. Next, set your GMB account up under your primary Google account.  You will thank me for that advice later on.
Step 1
Go to google.com/business and then click on "Start Now."  Type in the Google account you are using for managing that business or that business location.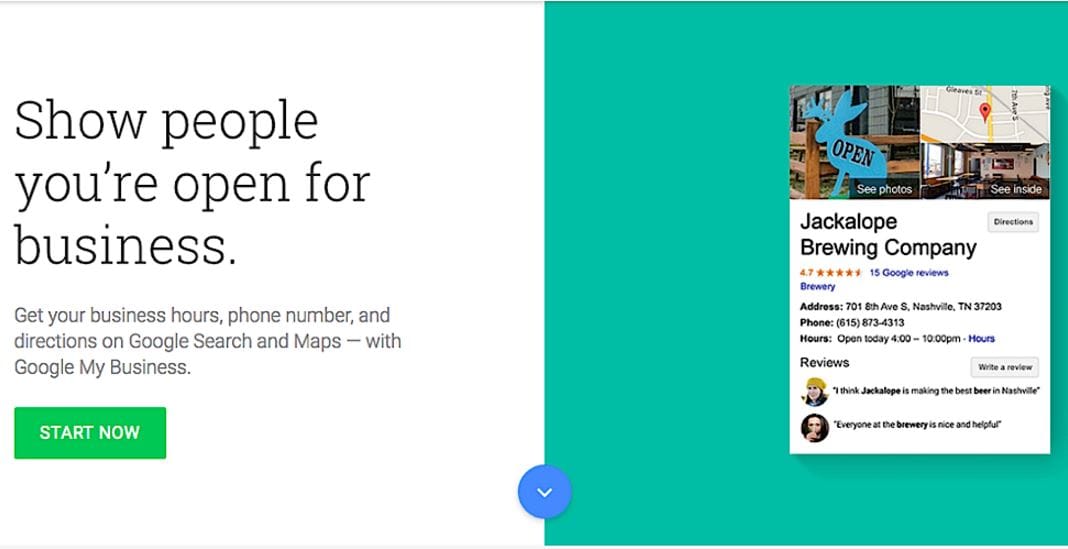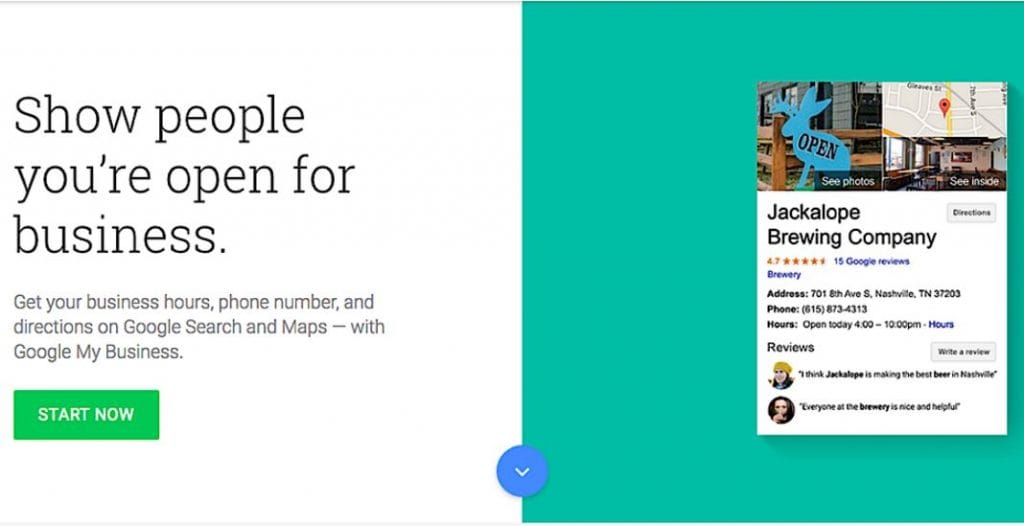 If you don't have a Google account yet that is associated with your business, just click on "Create Account" under the login box and then follow the instructions to get your account set up.
If you happen to have a private account that is associated with your business but would like to ensure that multiple individuals have access – you don't need to create a new account.  It is always possible to add or remove page managers at a later date.  Just make the "owner" of the page someone who is going to actively using the Google account.
Step 2
Search for your business by address and name using the box located in the top left-hand corner, and choose the right listing for your location or business.  If you can't find a listing for your business, make sure that you entered all of the location's information correctly that is associated with the email address you are using.  Also check for variations of phone numbers and the street address that directly reach the business.
If you still are unable to locate your business, choose "Add your business" and then you will be requested to enter additional information.
If you are getting a new business listing set up and instead of a fixed location your business has a service area, make sure that you check "Yes" for "I deliver goods and services to my customers at their location."  Then follow the instructions that are provided.
Step 3
Verify your business.  This can be done instantly, by phone, by postcard, or through bulk verification if there are 10+ locations for your business. Phone verification is by far the fastest. Using postcards can take up to two weeks and I have had to repeat the postcard verification a few times until the card comes through. I advise to do the phone verification.
If you have verified your business website already through the Google Search Console, then you might be verified instantly.  Just be sure you are suing the same account with Search Console that you used for verifying your site.  For some business categories that verification option might not be available.
Get Your Google+ Business Page Set Up
The following instructions are for individuals who are setting Google+ Business Page up through both Google My Business and through other means.
Brand Pages Vs. Local Business Pages
There are two different types of Google+ pages: brand pages and local business pages.  With brand pages, hours, address and other information appearing on Google Maps is not included.  They focus more on engagement with followers, fans and customers. Many brands and businesses don't mainly operate from a fixed physical locations.  Brand pages are a better fit for these types of businesses.
If you don't have a Google+ page yet that is associated with the account you are using in your setup process, GMB will create one automatically for you.  Remember my warning from above regarding duplicate Google+ pages.
Open Google+ In Gmail
If you would like to ensure you haven't set a business page up already, or you would like to view all your Google+ pages, log into your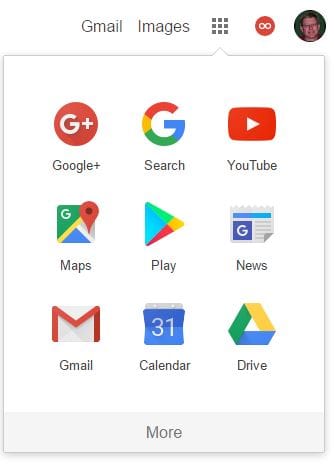 Gmail account to navigate over to the Create a Page screen.  Choose the 3×3 block icon located in the upper right corner, and then choose the Google+ icon.
In the upper left corner on your personal Google+ homepage, in the "Home" drop-down menu choose "Pages."
You will then be able to see all of the different pages that are associated with your account.  Choose "Get Your Page" if you would like to make a new one.  At the Create page,there will be three options: Brand, Service Area and Storefront.  Choose the type of business page you would like to create.
Service Area and Storefront are both local business pages, and then there is the Brand Page that we previously discussed.  For a brand, you will be asked to choose your page name and type in your website address.  If you choose either Service Area or Storefront, you will be taken over to the map search page.  You will then be asked to type in your business name (unless you did that already in your GMB setup process).
If Google is able to find the location of your business on the map, choose it.  If it doesn't choose "Add your business." Make sure to carefully check the map, including any address variations or old addresses, before your add your business.  Once you have clicked on create, you might be asked to verify your page via a phone call or text.
Then added your information on your new page.  There are many different method for optimizing your Google+ profile.  Your new page will have a blue progress bar to help guide you through the process.  You will need to have a keyword-rich introduction, a tagline, a cover photo and a profile picture.  Also include your best contact information, along with links to your social media platforms and website.
Remember that any of the Google properties might impact your organic search results.  Therefore, take advantage and make sure that your Google+ business page is optimized.
Once you have filled the basic fields in, a prompt might appear at the top of the page saying you are eligible to get a custom URL.  If you do, make sure that you take full advantage of this.  Otherwise your Google+ business page URL will just be a string of random numbers.
Google reports that businesses with photos added to their listing get 42% more driving direction requests on Google Maps along with 35% more clicks to their websites compared to business that don't add photos.
To complete your page, the final step is to start to add content, connect with colleagues and friends, join groups and start to engage with other people. Fortunately, Google has really simplified the set up and optimization of the GMB system. So, there's really no excuse not to get your GMB page up and running for your business – now!
Need Some Help?
Need some help setting up your GMB page? Call me at (719) 761-4862 or contact me by email HERE and I'll help you do it!
Dan has been an invaluable asset to my business from the very start! Dan came highly recommended to establish my business in the community by creating our company website. He shared his wealth of knowledge to create a website that is getting noticed! Our website is now #1 on the Google search engine & we couldn't be happier. Thank you, Dan!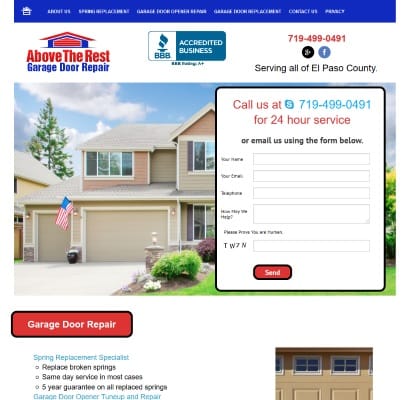 A professionally-built website for your local Colorado Springs business is a must-have these days. The best business website is a lead generation website (click HERE for more details on a lead generation website).
Why not contact us today and let us show you how a lead generation website can build your business on a budget! Call us at (719) 761-4862 or use the handy form on the right!