Fairlane's Website Care Package.
Here's what you get –
Hosting on my Virtual Private Server (if you need it or want it, no problem if you want to stay on your server)

Not a Cheap Shared Hosting
More Secure Than Shared Hosting
Free SSL Setup & Maintenance

I Will Move Your WordPress Website From Your Current Server To Mine For Free!
Google Webmaster Tools Listing & Maintenance
Website Security Monitor

Active login & login attempt monitor (we see who's trying to get in)
Secure login credentials
Website backups & restore
Any breakins or security breaches – we will fix or rebuild. No extra charge if the worst happens!

Website Software Updates

WordPress & associated plugins need regular updates. We do this for you – no worries!

Monitor Traffic With Google Analytics

We will set up & monitor through your Google account or ours
Traffic reports when you want them

Email Setup & Monitor
1 Hour of changes, updates, technical help – whatever you want – per month
Contact Me By Phone Or Email If You Need Anything (priceless)!
Personalized Service &
We're Continually Adding More!
In other words, we take complete care of your website so you don't have to worry!
---
Option #1 – Monthly Billing
[fullstripe_subscription form="Website_Care_Package_Monthly"]
---
Option #2 – Annual Billing (save 40%)
[fullstripe_subscription form="WebsiteCarePackageAnnual"]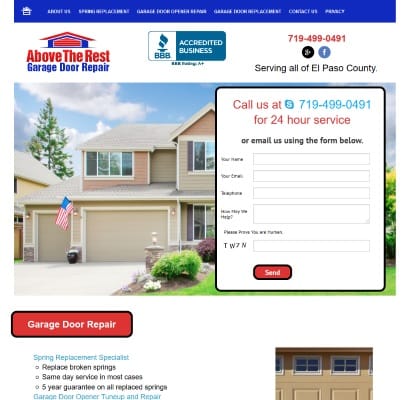 A professionally-built website for your local Colorado Springs business is a must-have these days. The best business website is a lead generation website (click HERE for more details on a lead generation website).
Why not contact us today and let us show you how a lead generation website can build your business on a budget! Call us at (719) 761-4862 or use the handy form on the right!
Dan has been an invaluable asset to my business from the very start! Dan came highly recommended to establish my business in the community by creating our company website. He shared his wealth of knowledge to create a website that is getting noticed! Our website is now #1 on the Google search engine & we couldn't be happier. Thank you, Dan!