WHO THIS IS FOR: Business owners who want more business from the internet .
WHAT THIS CHEAT SHEET WILL DO: Tell you how to accomplish the above.
WHY YOU SHOULD READ IT: To grow your business and make more money!
Getting Noticed On The Internet Is Getting Tougher!
Getting your business noticed on the internet has changed dramatically in recent years. In addition, a first page ranking for your website doesn't guarantee lots of phone calls like it used to. Local business SEO (search engine optimization) is all about making your website attractive to search engines.
Here are some reasons why I think getting your business noticed is tough;
Competition for has increased for most keywords and more businesses are competing for the same keywords.
Your competitors are getting sharper with optimized websites and well-executed local marketing strategies.
Google is slowly removing organic ranking spots on the front page and is replacing those spots with paid ads.
Many of those first page rankings are held by big directory pages – bbb.org, yelp.com, yellowpages.com, angieslist.com and others.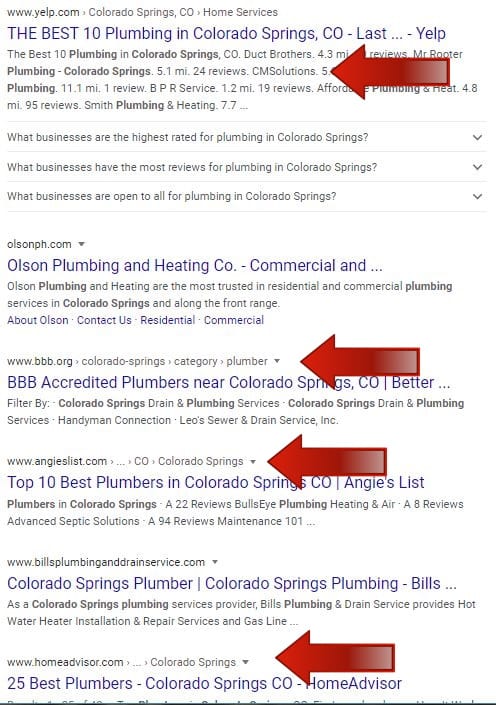 Getting your local business noticed on the internet for 2021 is more difficult than ever and local business seo will help. Google is always trending towards more paid positions (advertising) than organic or "free" spots.
But you can still build a solid internet presence that will attract clients by taking advantage of the suggestions I list below, improving local business seo.
Based on my 10 years of experience helping local businesses build their online presence, I will tell you what I see is working now and what changes are in store for 2021.
Your Website – The Main Ingredient
Your local business website is still the "hub" of your internet marketing for 2021. This is where customers will learn all about your business and the problems you solve. The better your information, the more an "expert" you become. Again, your customers need their problem solved and you have to prove to them that you're the best choice.
A quality website (meaning crisp and professionally-presented) is a great way to establish legitimacy for your business. This is especially true for a new business when you don't have a lot of external links and few reviews.
Some Helpful Tips
Here are some tips for making your website a real asset for your customers and clients, helping you to rank well in return;
Full Name, Address & Phone number (NAP). Use a REAL address – no P.O. Box, no "fake" address. This should be identical throughout the internet. Make sure your NAP shows on every page. Even if you work from home or do not service customers at your business location, you need to show an address.
Describe exactly what you do and what problems you solve on the home page.
Create unique pages for every service or product you offer, at least unique 500 words.
Optimize those service pages with one H1 tag, several H2 and H3 tags for sub categories.
Add business hours and business categories.
Add a Service Areas page detailing which areas or cities you serve.
Make sure your mobile version is properly formatted and has an easy, click to call button.
Make sure your Page Load Speed is no more than 4 seconds. A great place to see actual page load speed is https://gtmetrix.com/. You can also compare your numbers to your competitors' page load speeds.
Add new content (blog post or service page) at least once a month. More is better.
Freshen older pages with more helpful information. Fix any mistakes (typo and fact).
Find and fix broken links.
Google Business Page
If you don't have a Google Business Page – get one!
Start by logging into your Gmail account, then, in a separate tab, go to business.google.com.
Or search for your business in a browser – you probably already have a page for your business. Look at the right side of the page and you'll see your business. Click the link that says "Own this business" and go from there. You might have to claim with a text to your phone or a postcard – do it!
Once you get access, do the following;
Make sure your NAP (see above) is correct and is identical to what's on your website.
Include all the Categories (and detailed descriptions) that are appropriate for your business.
Add the Service Areas you service.
Make sure your Open Hours are correct.
Be sure to add your website url (like this: https://fairlanewebconsulting.com) and include a contact page or scheduling page link.
Include all the services (with a description) that you offer.
Write an accurate and well-thought out Business Description.
Finally, add plenty of relevant photos of logo, products, services and your place of business if appropriate.
Create posts 3 – 5 days a week. You can grab snippets of content from your services pages and always add a photo and a "learn more" link to that page.
One thing to remember – improved ranking and more customers takes time. I'm talking weeks and months. This is a long-game strategy with a great payout in the end if you do the work.
Do you have questions? Please contact me and I'll help you.