SEO Case Studies
Our Colorado Springs digital marketing agency has helped over 50 local businesses to increase consumer loyalty and find new customers online.
Below, you'll find a few of our SEO case studies. Take a look at some of the impressive results we've delivered in some very competitive business niches.
Colorado Springs Criminal Defense Attorney
After a year of careful and targeted content addition, and on-page website SEO, in conjunction with local citation development, our client was able to rank on the first page of Google regularly for some very competitive local legal keywords. With each click valued in Adwords between $50 and $100, our client has reaped many times his SEO investment in new clients.
In fact, he often is in the Google "3-Pack" for a couple of expensive keywords – a huge traffic bonus!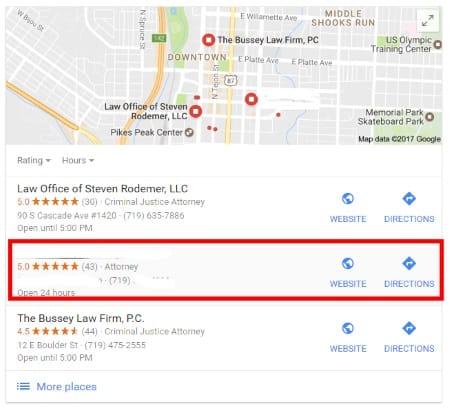 As you can see from the graph below, traffic to his website has more than doubled in one year due to our focused and systematic local Search Engine Optimization program.


We are one of Colorado Springs Search Engine Optimization companies!
Colorado Springs Insurance
Our client, a local insurance agency, consistently ranks on the first page of Google for some very competitive local insurance keywords. Each click is worth about $20 according to Adwords.
How did we do it? First of all, she runs an exceptional insurance agency and absolutely delights her clients.
We simply did a nice job on the on-page SEO for her website. It took close to a year but over those months her website slowly moved up, finally resting on page #1. You can hear it straight from my client;
Hi Dan, Just wanted to let you know I've had several referrals in the past couple of weeks from people that found me online. One person even commented on my picture & said they called me out of other people they googled, because I had a friendly face. It was flattering to have that kind of comment & I wanted to let you know about it since you're responsible for putting my website together. It's been generating business for me & I just wanted to say – Thank You!
Local Colorado Springs Landscaping Company
Here's an interesting story. Originally, I started working for this client after his original local marketing company allowed his website to be hacked. The hacking was not discovered for several months, resulting in a catastrophic loss of traffic, as you can see from the chart below.
We covered the SEO and internet marketing basics for this client, and have had some pretty incredible success after about a year. Traffic and calls to the business have about doubled over a year of consistent effort.
As a result, this client has signed landscaping contracts that will keep him profitably occupied for the majority of the year!


Give us a call at (719) 761-4862 or contact me HERE to see if we can help you!
Results Not Typical
Remember, these results are not typical. Every business is different and every local business niche is different. There are LOTS of factors that make up a successful business and local SEO is only one of those factors. But, these clients, who run great businesses, demonstrate what IS possible when a local business is marketed well.
Give us a call at (719) 761-4862 or contact me HERE to see if we can help you!