dictionary.reference.com definition of "assets."
Items of ownership convertible into cash; total resources of a person or business, as cash, notes and accounts receivable, securities, inventories, goodwill, fixtures, machinery, or real estate (opposed to liabilities ).
dictionary.reference.com definition of  "advertising."
The act or practice of calling public attention to one's product, service, need, etc., especially by paid announcements in newspapers and magazines, over radio or television, on billboards, etc.: to get more customers by advertising.
Assets are long-lasting, often giving benefits and great value long after the final payment is made. Advertising, by definition, often has a very short life – when the payments stop, the benefits stop as well. Some argument can be made that advertising can have some residual effects such as brand awareness that may stick around after the advertising campaign is over, but the main benefits of advertising end when the payments stop.
Running a successful business requires building assets and buying some advertising, but sometimes advertising gets sold as an asset to unsuspecting business owners by unscrupulous marketing companies that are concerned with their profits first, and who hold the interests of their clients a distant second.
Aggressive sales tactics, data from "similar businesses" in distant towns and a heavy use of the "scarcity" scare tactic – "We only have three top page spaces, you'd better grab one to make sure your competitors don't get top billing and steal all your customers" are only a few of the many ways these big-time marketing companies coerce local businesses into make really bad marketing decisions.
The ultimate goal of these big marketers – any marketer, really – is getting the business owner hooked on handing over large monthly payments for eternity for some pretty measly benefits. All the while building no real assets your business will have long after the advertising is just a distant memory.
What kind of assets should you be building for your business?There are three main areas of online assets you should be concentrating on for your business.
Your website.
Be quick to identify who you are and what you do.
Be fast loading.
Have multiple ways to contact you.
Have minimal graphics & images.
Have minimal color distractions.
Have easy and intuitive navigation.
Contain your correct business Name, Phone number and Address (N.A.P.).
Be optimized content about your products and services written for human beings.
Have connections to major social media pages.
Be mobile optimized either by being responsive or through a separate mobile site.
2. Your Google Plus page.
Optimize and claim your Google Plus business page.
If you're an established business, one has probably been created for you.
Can normally be claimed by phone or postcard sent to address on record.
Update with correct N.A.P.
Add unique business description.
Choose appropriate categories.
Add business hours.
Add unique images and videos appropriate to your business.
Link to your Google Plus business page from your website.
Actively seek reviews from happy customers.
3. Your review/citation pages.
Google your business name and pay attention to the first two or three search results.
Claim and correct business information on those pages – N.A.P. is particularly important.
Do the same for some of the top review sites like yelp.com, dexknows.com, bingplaces.com and others.
Correct or have deleted pages with incorrect information – old phone numbers and addresses can be very damaging.
If you can fulfill the items above reasonably well – you don't have to be perfect – chances are good that you will be able to get rid of a big chunk of your advertising expenditures because your internet assets will be bringing in a LOT more customers than your so-called advertising.
This is the basis for the Local SEO Strategy – the art (and science) of earning great rankings on Google for your business.
How do the above strategy work to build your business?
The main reason why this strategy works so well is simple. By becoming Google compliant and by following Google's rules to prove that you're a legitimate local business in town that has a great reputation, cares about their customers and promises great service in the future, Google will reward you with great page rankings for your keywords.
If you've been diligent and consistent in your efforts, you should start to see certain pages on your website starting to rank highly in local searches. Increased calls and emails will tell you that you're ranking better. Chances are good that your Google Plus business page will show up in the "7 pack" of local Google business pages if you've been able to get 10 – 15 good reviews from delighted customers.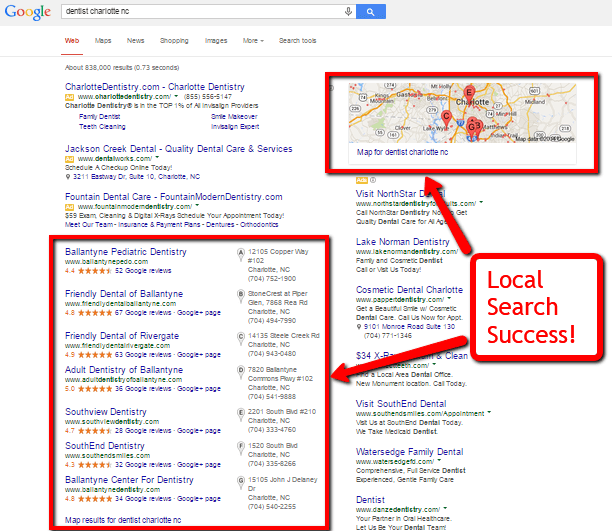 The vast majority of my clients come to me in very similar situations. Most are spending hundreds, if not thousands, of dollars each month on some type of advertising or another. And most of them have no idea if those dollars spent are actually bringing in business and profits – or not! Sadly, most of them have not been building assets like we describe above that are proven to add long-term value to a business through increased growth and profits.
If you're in a similar situation – don't get so discouraged that you continue repeating the same mistakes. Spend some time evaluating what you're spending your advertising dollars on and what the benefits actually are. You might be surprised that you can't really determine what (if anything) you're getting for your money.
Again, you're not alone here. The vast majority of my clients have very little proof that the money they're spending with their current marketing company is delivering any results. But, most are too afraid to stop, lest they disturb an hidden benefits they're receiving.
I can't (and won't) tell you to stop questionable advertising campaigns. Only you and your good research can help make that decision for you. But I can tell you that the vast majority of my clients who "become clean" after dropping most extraneous spending outside of asset building never notice the loss.
Just my $.02.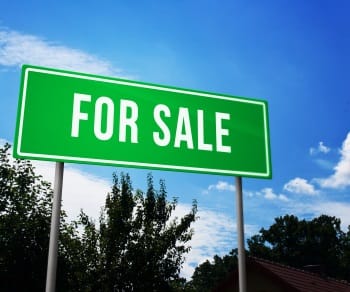 One more thing to consider. I'm not sure if you've even thought about this but, what happens when you want to sell your business? Isn't that the ultimate goal for many of us? An exit strategy, preferrably a profitable exit strategy where we can reap some of the benefits of long years and hard work building a successful and profitable business. Like it or not, there will come a time when we are ready to move on to something new, and most of us would like to cash in.
One of the most valuable assets that you can show when you are trying to sell a business is your customer acquisition strategy. Buying advertising is not a great strategy and will likely be worth very little. But what if you could show potential buyers your new customer funnel that uses online assets that you've spent years developing to, reliably and predictably, send a steady supply of new customers to your business. That's where the value lies. That's how online assets work for your business. Day in, day out, year after year, online assets like I've described above will far surpass most any advertising on a dollar for dollar comparison in building a superbly profitable business.
If you're having a difficult time determining if you're spending money on assets or advertising, give us a call. We'd be glad to go over some of your spending to see if you're really getting the benefits that have been promised to you. Or not.
Of course, you can do the asset building yourself. It's not brain surgery. It is tedious and can take up a lot of your time. If you'd like us to do this for you, our costs are really straightforward.
We charge an all-inclusive $2,100 over three months to build your assets.  That figure also includes needed website tweaks and other adjustments designed to get your business noticed on the internet.
That's it – no more spending is needed. No monthly fees for questionable services.  Why not give us a call at (719) 761-4862 and we can answer any questions you may have.  Or contact us HERE.